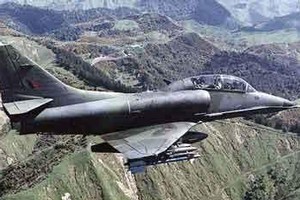 The air force's 17 mothballed Skyhawk jet fighters look likely to end up as museum pieces or spare parts after a Christmas deadline passed with no sign of any money from the American buyer.
American company Tactical Air Services (TAS) wanted to buy the Skyhawks and 17 Aermacchi jet trainers decommissioned by the Labour Government in December 2001.
The current Government's Christmas deadline for TAS to come up with some money passed with no sign of a cheque in the mail, a spokesman for Defence Minister Wayne Mapp said.
The Government was looking at other options, including handing the Skyhawks over to museums for static display or selling them for spare parts, he said.
Few, if any, air forces worldwide were still using Skyhawks and selling the New Zealand aircraft for spare parts was not expected to be a simple task.
The air frames and J52 engines are not expected to be sought after because of their age and difficulty in servicing the engines but some air forces could be interested in the Skyhawks' reasonably modern avionics.
They are similar to those fitted to the American F16 fighter aircraft but the United States could have a final say about who buys the avionics.
A deal to sell the Skyhawk and Aermacchi fleets to TAS several years ago for $155 million was never completed after the US State Department, which must approve any sale of aircraft with American military gear, delayed approval.
The Aermacchis might also be difficult to sell for spare parts. Earlier problems with the Rolls Royce Viper engines were resolved but it was understood Rolls Royce was reluctant to support them with any operator other than the Royal New Zealand Air Force (RNZAF).
The Government is expected to look at what costs are involved in getting rid of of the 17 Skyhawks and 17 Aermacchis and what it might get for the aircraft as spare parts.
The Air Force Museum in Christchurch had already asked for a single seater and a two-seater Skyhawk, museum director Therese Angelo said.
"It is important to us to preserve the RNZAF history."
The museum had also asked for an Iroquois and Sioux helicopter when they were retired, she said.
A Skyhawk given to the museum by America and configured as a New Zealand aircraft when they were first introduced will probably stay at Wigram.
The Ashburton Aviation Museum would also be interested in a Skyhawk, museum spokesman Bill Maxwell said.
Last year the Government said the bill to maintain the Skyhawks had reached $34 million since 2001.
The Skyhawks are plastic-wrapped and stored at the air force's Woodbourne base near Blenheim, while the Aermacchis are at the Ohakea base.
- NZPA