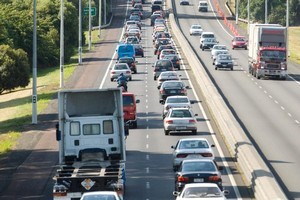 South Auckland motorists are set to benefit from a more direct route to the airport with the completion of the new $220 million Manukau motorway.
The opening of the SH20 Cavendish to Puhinui connecting road and westbound on-ramp in Manukau marks the completion of the final stage of the project, which has opened progressively since August.
The Manukau extension motorway connects the southwestern (SH20) and southern motorways (SH1) in Manukau and has taken four years to construct.
"The connecting road enables seamless travel on the new motorway without stopping, from the southern motorway or Cavendish interchange - all the way to Puhinui Road (SH20B) and Auckland International Airport," NZTA Auckland and Northland regional director Stephen Town said.
The project forms the southern gateway to the western ring route, one of the government's seven roads of national significance.
When completed in 2020, the ring route will provide a new 48km motorway around Auckland to ease pressure on SH1 and the Auckland Harbour Bridge.
- NZPA