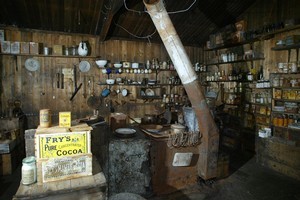 The cooking area in the Cape Evans hut. Photo / Mark Mitchell
British donors have raised £3.5 million ($7 million) to allow the New Zealand Antarctic Heritage Trust to continue work conserving the Cape Evans hut, built during Captain Robert Scott's ill-fated expedition to the South Pole.
The expedition arrived in the Antarctic 100 years ago this week and the latest fundraising is expected to allow work on the hut to be completed in time for the 2012 centenary of Scott's death. A project to preserve Scott's hut, as well as three others in the Ross Sea area , was launched in 2002 and an initial £3.5 million was raised.