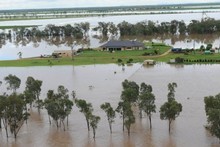 Another significant shift in our weather pattern may be arriving as soon as this coming Friday.
I'm sure many of you are aware of the flooding in Queensland, being described as "of biblical proportions" by authorities.
Well, by the end of this coming week New Zealand may start being affected by the same belt of tropical weather that's producing these big rain makers for Queensland. (Don't worry, we aren't forecasting flooding yet).
The computer models are predicting a fairly large low will move into the Tasman Sea around mid-week and could start bringing more cloud, more north east winds, and much more humidity by Friday.
The long range maps for the week after show more lows bubbling up north west of New Zealand and a considerable lack of high pressure over us - meaning those lows and fronts have the potential to stick around for several days. We're now also getting into the true Cyclone Season.
You can view long range weather maps for the next nine days here.
The colours on those maps indicate wind - not rain - but from the wind direction and the area of low pressure in the Tasman it means humid, cloudy weather is likely - with a high chance of precipitation.
Someone hassled me the other day about using the word "precipitation". For those that don't know, this particular word is used when we aren't 100 per cent sure of the type of rain we're going to get (or we're covering all the types which will be affecting various regions). In other words, will it be a period of rain, will it be showery, or will it just be drizzle? The word "precipitation" covers all of those bases. Otherwise, yes, it is a nerdy word to use!
So I guess my advice to people who are camping - make the most of the sunny, hot, weather this week. It may not be around for a while after this week is done. If you're a farmer wanting more rain in the north - perhaps make hay while the sun shines...quite literally.
By Philip Duncan

Email

Philip