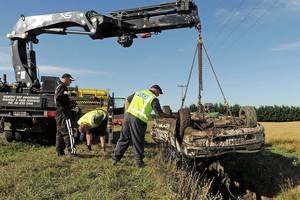 A fatal crash in Hastings early today has taken the holiday road toll to seven but provisional figures show the road toll for 2010 is 373, down 12 from 2009.
The single vehicle crash happened about 1.45am on State Highway 2, just south of Hastings.
Police said two men were in the car and the 35-year-old driver died at the scene.
The uninjured but disoriented passenger managed to flag down a police patrol after the accident, Senior Sergeant Luke Shadbolt said. The men were from Auckland and had driven to Hastings overnight.
The exact cause of the crash is being investigated.
National Manager Road Superintendent Paula Rose said the 2010 toll was 12 less than in 2009 but seven more than the record low of 366 in 2008.
The official holiday road toll period started at 4pm on Christmas Eve and runs until 6am on January 5. Last year, 13 people died on the roads during the period.
The first victim of the holiday period was Gayle Jean Anderson, 44, who died in a crash near Dunedin on Christmas Eve.
Just minutes into Christmas Day, 40-year-old Vineshwar Singh died in a hit-and-run in Pukekoe, south Auckland.
On December 28, Mary-Lee Huata, 17, died after a crash south of Wairoa in northern Hawkes Bay. A 13-year-old boy was driving the Toyota Hilux she was a passenger in.
A 16-year-old was killed about 1.30pm December 29 after a ute rolled onto him at Reporoa, 47km north east of Taupo.
The boy and another 15-year-old boy had been sitting on the rear of the utility tray.
The 15-year-old suffered back and spinal injuries and was in a stable condition in Waikato Hospital.
The driver, a 15-year-old local youth was not injured.
About 2pm, December 29 a 38-year-old man was killed when the motorcycle he was riding and a car collided on a gravel road off State Highway 4, north of Whanganui.
Yesterday, a 13-year-old girl was killed after a car and a truck collided just before 3pm on State Highway 2 at Whirinaki, 14km north of Napier.
- NZPA