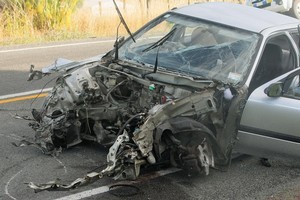 Twelve people, including three children, were injured in a crash involving a truck and three cars in Hawkes Bay late yesterday afternoon.
The pile-up happened just before 5.30pm and caused long delays on State Highway 2.
This morning Hawkes Bay Hospital said one person remained in a critical condition after the crash, three were in a serious condition, four were stable and four had been discharged.
Three people had last night been described as being in a critical condition - two men, aged 31 and 22, and a 20-year-old woman. It is unclear which two of those patients were this morning considered to be in a serious condition and which remained critical.
Yesterday a 4-year-old boy was listed as being in a serious condition. A 9-year-old boy had minor injuries and an 11-year-old moderate injuries.
The remaining injured were aged from 17 to 59. Their injuries ranged from minor to moderate.
The Hastings hospital had earlier called in extra emergency department staff to cope with the numbers injured.
Otane chief fire officer John Oliver said he had never seen a crash like it.
"These people are very, very lucky to have not died in this crash."
He said the cars involved were wrecked. "One had its roof torn off. Another had its motor ripped out and it was thrown into a field."
Those hurt included three tourists, from Italy, Germany and Uruguay.
Two people had to be cut from their cars by firefighters from the local Otane station.
Mr Oliver said it was understood one of the cars crossed over the centre line while going around a corner.
"It was then dragged under the trailer of the truck, and the other two cars couldn't stop themselves and went straight into the crash."
Oil from the truck spilled across the road after the accident and had to be hosed away.
Inspector Bruce Mackay of police central communications said the serious crash unit was piecing together details of the collision.
"It's pretty bad. It's turned into a very, very serious crash."
The crash was just north of Otane, 35km southwest of Hastings, and closed SH2 for more than three hours.
The holiday road toll stood at three last night, after a car crash in Hawkes Bay killed a 17-year-old woman.
Mary-Lee Huata, 17, was travelling home from a wedding after-party at a nearby marae when the Toyota Hilux truck she was a passenger in crashed on Putere Road, Raupunga, 7km south of Wairoa about 7am.
Police said it was not yet clear what happened but no other vehicles were involved.
Three others in the vehicle were treated for injuries at Wairoa Hospital.
The cause of the crash is being investigated.
Gayle Jean Anderson, 44, of Mosgiel, died on Christmas Eve when her car hit a power pole on a rural road about 15km from Dunedin.
Pukekohe man Vineshwar Singh, 40, died early on Christmas Day after he was hit by a car in Helvetia Rd.
The official holiday period began at 4pm on Christmas Eve.
- additional reporting NZPA