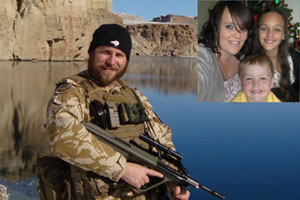 Chief Petty Officer Steve Clarke received the best Christmas gift ever yesterday: Watching his children unwrap their presents on Christmas morning.
The naval officer, who is on a six month deployment in Bamiyan Province in Afghanistan, spent over an hour on an internet video call to wife Brooke, step-daughter Caitlin, 11, and 4-year-old son Cooper.
Clarke, 36, from Hobsonville in west Auckland, said being able to share the gift opening, albeit from nearly 14,000kms away, helped him deal with missing his family.
He said: "I would like to have a barbecue and sunshine and enjoy those moments with family. But being able to see the kids' faces as they opened their gifts was pretty special."
Brooke, who was celebrating Christmas with family in Rotorua, said: "It
was almost like he was here with us. The kids loved it."
She said her husband had already missed out on their first wedding anniversary, Cooper's fourth birthday, and other important family occasions.
"It's been pretty tough, but we always knew he would be sent away. We know what a great job he is doing out there, and that helps."
Clarke sat down to a Christmas lunch of turkey, lamb, and vegetables yesterday with the 100 or so Kiwi defence force personnel who are helping to rebuild the area after decades of warfare.
"We are getting pretty festive here," he said via satellite phone from the base.
"We are doing a secret Santa swap and there are Christmas decorations up. We are trying to get into the spirit but it's certainly not going to be a day off for us."