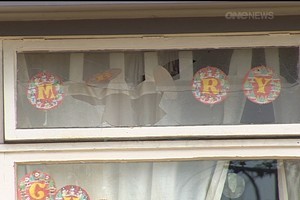 The sound of glass shattering woke a young family in the early hours of Christmas morning as a vial containing a toxic liquid was thrown through the front window of a house in Pages Rd, Bexley, Christchurch.
While the presents remained unopened under the Christmas tree, the parents and their four young children spent most of the day in hospital to ensure the fumes had not harmed their health.
Detective Sergeant Sarah Illingworth said this was a deliberate attack on the home on Pages Rd: the vial could not have been thrown from the road.
"It doesn't get much worse, this happening to a young, working-class family on Christmas Day," she said.
"It couldn't get much worse... They have no idea who would have wanted to do this to them," she said.
Police kept an eye on the family's three kittens until they were able to return to the house at around 3pm.
"The family are very happy and relieved to be home, but scared about what has happened to them," Illingworth added.