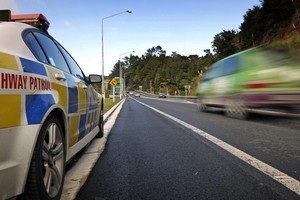 Police have urged motorists travelling north from Wellington to exercise patience in "extremely heavy" traffic today.
Police said the sheer number of people heading up the island was causing traffic to build-up in the Paremata/Plimmerton area.
They advised motorists to either delay their departure or be prepared for considerable delays.
"Patience will be the key word here and it is suggested that those who do not have it should pull over and count to one hundred before proceeding," a statement said.
Two people have so far died on New Zealand's roads since the official holiday road toll period began at 4pm yesterday.
Police are investigating after a 40-year-old man died in a hit-and-run in Pukekohe, South Auckland, early this morning.
The man wandered onto Helvetia Road in Pukekohe, South Auckland, when he was hit by a car, police said.
The vehicle immediately left the scene.
Police said there was no description of the vehicle, which possibly had some frontal damage caused by the impact with the pedestrian.
They appealed for any witnesses to come forward.
A 44-year-old woman was killed near Dunedin last night.
The woman's car crashed into a power pole on Bush road in Mosgiel, which is 15 kilometres from Dunedin, about 9.30pm, Senior Sergeant Mel Aitken said.
The victim was the sole occupant of the vehicle and police were unaware what caused the woman to crash on a straight piece of road.
Police wanted to speak to the occupants of a blue vehicle with a "big bore exhaust", which may have passed the accident scene without stopping to help, she said.
The road toll period ends at 6am on Wednesday January 5.
Last year 13 people lost their lives on the roads during the holiday period.
- NZHERALD STAFF and NZPA