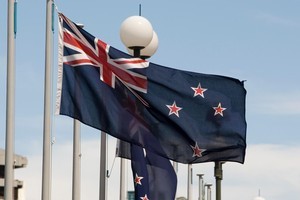 December 4, 2007
New Zealand response to NIE on Iran's nuclear program
date:2007-12-04T18:50:00
source:Embassy Wellington
origin:07WELLINGTON842
destination:VZCZCXYZ0029 OO RUEHWEB DE RUEHWL #0842 3381850 ZNY SSSSS
ZZH O 041850Z DEC 07 FM AMEMBASSY WELLINGTON TO RUEHC/SECSTATE WASHDC
IMMEDIATE 4932 INFO RUCNDT/USMISSION USUN NEW YORK PRIORITY 0108
classification:SECRET
reference:07STATE162558
?S E C R E T WELLINGTON 000842
SIPDIS
SIPDIS
E.O. 12958: DECL: 12/04/2022
TAGS: KNNP, MNUC, PARM, IR, NZ
SUBJECT: NEW ZEALAND RESPON...
?S E C R E T WELLINGTON 000842
SIPDIS
SIPDIS
E.O. 12958: DECL: 12/04/2022
TAGS: KNNP, MNUC, PARM, IR, NZ
SUBJECT: NEW ZEALAND RESPONSE TO NIE ON IRAN'S NUCLEAR PROGRAM
REF: STATE 162558
Classified By: U.S. Embassy Wellington DCM David J. Keegan, Reasons 1.4
(b) and (d).
1. (S) DCM met with MFAT Deputy Secretary Alan Williams December 4 to present NIE and talking points per reftel. Williams said that MFAT would immediately prepare a summary for cabinet and the Prime Minister.
2. (S) Williams commented that New Zealand has been clear in its messages to Iran in all fora that New Zealand will honor all UN mandated sanctions and that Iran must take the actions called for by the international community and the UN Security Council. It will be impossible for anything approaching a normal political or economic relationship until Iran does so. He added that trade between Iran and New Zealand is minimal, and even the scale of that trade is exaggerated by the record high prices for diary products, one of New Zealand's major
export commodities.
3. (S) Williams added that, while some may seek to use the new NIE to argue against U.S. policy, our willingness to look critically at earlier assessments, reflects "all that is best in America." The message he would take from the NIE conclusions is that this is not the time to relax the international pressure, including sanctions, on Iran to meet IAEA and UNSC demands.
McCormick