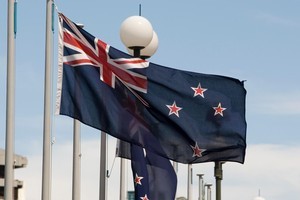 November 2, 2007
Supporting Argentina's request for Interpol approval of red notices

date:2007-11-02T04:21:00
source:Embassy Wellington
origin:07WELLINGTON791
destination:VZCZCXYZ0000 OO RUEHWEB DE RUEHWL #0791 3060421 ZNY CCCCC
ZZH O 020421Z NOV 07 FM AMEMBASSY WELLINGTON TO RUEHC/SECSTATE WASHDC
IMMEDIATE 4852 INFO RUEHBU/AMEMBASSY BUENOS AIRES PRIORITY 0044
classification:CONFIDENTIAL
reference:07SECSTATE147320
?C O N F I D E N T I A L WELLINGTON 000791
SIPDIS
SIPDIS
STATE FOR EAP/ANP; NEA/IR - REBECCA HUMMEL; WHA/BSC: JANINA
SLATTERY, CAROLI...

?C O N F I D E N T I A L WELLINGTON 000791
SIPDIS
SIPDIS
STATE FOR EAP/ANP; NEA/IR - REBECCA HUMMEL; WHA/BSC: JANINA
SLATTERY, CAROLINE CROFT; S/CT ARNOLD SIERRA; L/LEI HEATHER
MCSHAIN
E.O. 12958: DECL: 11/02/2017
TAGS: PTER, KJUS, PREL, NZ
SUBJECT: SUPPORTING ARGENTINA'S REQUEST FOR INTERPOL APPROVAL OF RED NOTICES
REF: SECSTATE 147320
Classified By: Pol/Econ Counselor Margaret McKean; Reason: 1.4 (b) and
(d)
1. (C) In response to reftel demarche, Pol/Econ Counselor spoke with an Argentine Embassy official, who related that the Government of Argentina's Ministry of Foreign Affairs had discussed the issue of the red notices with the New Zealand Embassy in Buenos Aires. The Argentine Embassy in Wellington was unaware that its government had asked the USG or any other foreign mission to support its position, but they did not have any objections if the U.S. mission weighed in. In discussion with the French DCM, Pol/Econ Counselor learned that he had not been asked by Paris to assist. The U.S. Embassy did ascertain that the GNZ would be represented at the Interpol General Assembly meeting, but that the New Zealand position on this issue would be determined in Morocco based on their representative's discussions with colleagues at the GA and the dynamic established during the meeting.
2. (C) Pol/Econ Counselor met on October 31 with MFAT Director of the Americas Division, Carl Worker, to deliver the demarche. Worker confirmed that the New Zealand Embassy had been approached by the Government of Argentina. Worker noted that the GNZ sense was to be supportive in this situation. Nevertheless, as a former ambassador to
Argentina, Worker said that the Argentine judiciary and police investigations in general leave much to be desired; however, he understood that the Argentine government was trying to make a proper case in this instance. He asked if the USG had information bearing on the investigation and its quality; Pol/Econ Counselor responded that such information had not been included in the demarche request.
McCormick