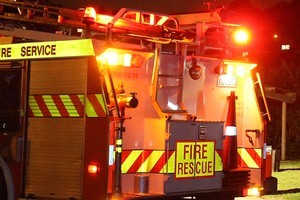 Firefighters are today continuing to battle a 120 hectare scrub fire in Waimate, South Canterbury, which ignited yesterday afternoon and has now spread into forest.
Seven helicopters and two bulldozers are been utilised to contain the blaze, and a 10,000 litre dam is also being used, South Canterbury Rural Fire District spokesperson Lizzy Sutcliffe said.
Ms Sutcliffe said 63 firefighters were at the scene and 10 more were on the way.
State Highway 82 had been closed between Hodges Road and Parkers Bush Road due to the blaze, but has since reopened.
The blaze is one of around 100 fires that have kept lower South Island firefighters busy in the last 24-hours.
Fire Service southern communications shift manager Mr Norris said "extremely high winds and high temperatures" had set off a spate of fires from Invercargill to North Canterbury.
Yesterday firefighters battled a sawmill blaze in Loburn, north of the Chirstchurch suburb of Rangiora.
However, most fires had been minor and caused by trees falling on powerlines or scrub burnoffs reigniting, Mr Norris said.
- NZHERALD STAFF and NZPA