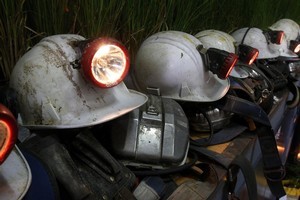 Families of the men killed in the Pike River mine will be getting immediate financial relief to get them through Christmas.
Two separate funds have been set up, one through the Grey District Council and one through Pike River Coal itself.
The council fund's trustees met today to discuss how to manage their fund, which still has donations rolling in and has grown to $6.5 million so far.
A series of blasts beginning on November 19 killed 29 miners and contractors working at Pike River, 50km north of Greymouth.
"Christmas cheer" payments have been announced in the short term with all money from the relief fund to be distributed early next year.
Spouses or partners of the men killed will be paid $10,000 each, every child $2500 and parents $2500.
Grey District Mayor Tony Kokshoorn told NZPA families had been told of the Christmas payments last night and were relieved to know that they would have "a little bit of a bonus" to get them through the holidays.
He stressed the payments were just for immediate relief and heftier payments were to follow.
"This is just to get them through while we keep collating all of the information we have. We will distribute all of the funds early in the New Year with the next meeting scheduled for mid January."
The outpouring of grief and support from the nation was amazing, he said.
- NZPA