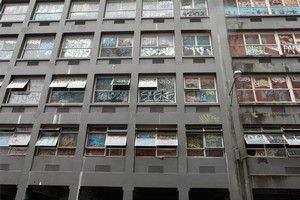 A derelict building in downtown Auckland remains an eyesore two weeks after Auckland Mayor Len Brown promised that work to spruce it up would start immediately.
The 99-year-old Yates Building, on Albert St, has been vacant for more than 10 years.
It has been in a derelict state for many years, covered with graffiti and with broken windows.
More than a fortnight has passed since Mr Brown stood in front of the building and announced that it would finally be getting a makeover, after the council struck a deal with its owner.
At the time, Mr Brown said the building was an eyesore, which needed securing and cleaning up.
He said work to clean it up would start straight away and the whole thing would be completed in two weeks.
However, photographs the Herald took yesterday show that nothing has changed.
Late yesterday afternoon, a spokesman for Mr Brown said plans had changed and that the work would now begin next week. The spokesman said council officials had consulted several property and business owners around the Yates Building.
As a result it was decided that work would be carried out during the Christmas break - rather than the build-up to Christmas - so it would have little effect on businesses in the area.
The spokesman said: "The view is that ... work should begin before Christmas and run during the Christmas break."