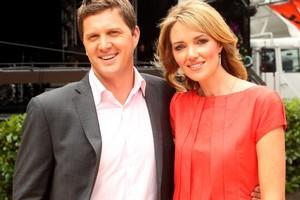 Paul Henry lost his job after suggesting that Auckland-born Governor-
General Sir Anand Satyanand didn't sound like a real New Zealander.
Now, his successor says defining a real New Zealander is complex - but
believes you have to want to live here to qualify.
New Breakfast host Corin Dann, who will co-host the show with TV3 defector Petra Bagust from January17, thinks all passport-carrying New Zealand residents have the right to call themselves Kiwi.
"It's a complex issue," he told the Herald on Sunday. "If you live here, if you've got a passport, residency, then that means you are one. I think [it's] people who want to live here."
Meanwhile, Bagust revealed she called outgoing host Pippa Wetzell, who is pregnant with her third child, for advice after she was headhunted by TVNZ from rival network TV3.
"I'm hoping that I can twist her arm to come back and get her to come back to cover from time to time," Bagust said.
The longserving TV3er has had to pull out of filming the second series of What's really in our ... ? after shooting several episodes.
Top Shelf Productions chief executive Vincent Burke said the sceneswould be reshot with a new presenter. "It's an annoyance," he said, "but these things happen in TV".