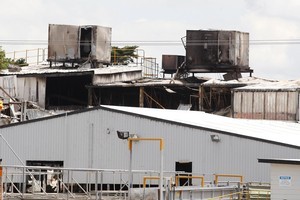 No worker at Silver Ferns Farms' Te Aroha plant had their pay deducted observing the official two-minute silence to remember the 29 men killed in the Pike River mine disaster, the company said today.
It was reported earlier today that when staff at the meat plant put their tools down and observed the silence, as requested by Prime Minister John Key, they lost two cattle each from their daily quota. That was the equivalent of between 98c and $1.60 for each worker.
Silver Fern Farms chief executive Keith Cooper said today that the company had encouraged employees to observe the national two-minute period of silence on December 2.
The local branch of the NZ Meat Workers Union approached management and decided not to process the two animals that were missed during the two minute silence at the end of the day as overtime. This was as a gesture of solidarity with the company and in the spirit of comradeship with the West Coast workers, Mr Cooper said.
Staff were paid on a per-animal processed basis, he said.
"The union, on behalf of our people, decided to process less animals on the day. There was no 'pay deduction', as throughput fluctuates from day to day - and therefore so too does the total amount earned by our people.
The two animals not processed one day would be processed the next day and thus no income was lost, he said.
Two days after the two minutes silence was observed, the meat works was destroyed by fire leaving around 300 workers jobless.
About 140 have since accepted jobs at plants in Hastings, and another 10 at Hawera and Dargaville.
Mr Cooper said the firm had done everything possible to support the Te Aroha staff, including paying them up until Christmas, setting up a Christmas fund to which staff made voluntary contributions to and paying accommodation supplements to help staff who had relocated.
- NZPA