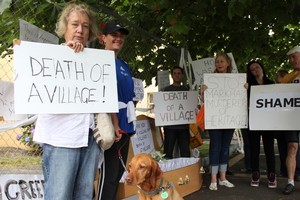 The Auckland Council is set to debate placing a heritage order on three art deco houses in St Heliers, which are due for demolition over the next few days.
This follows a deputation from concerned residents to the Auckland Council meeting this morning.
Campaigners made up of local residents, members of the Save Turua St group and others from the Art Deco Society are calling for the 1930s homes to be saved.
Developers Mike and Sandra Markham want to demolish the Spanish-style buildings despite their heritage value and what protesters say is "the history of St Heliers".
At the council meeting this morning, there were at times emotional and heated scenes, with Mayor Len Brown forced to tell one protester that the meeting was not a "shouting match."
Protesters called onto him to honour his promises regarding heritage buildings - made during his campaign - and save the art deco homes.
Mr Brown said he had received "hundreds" of emails from the Turua St and wider St Heliers and Auckland community regarding the demolition.
He acknowledged and thanked members of the public for coming along and presenting their petition, before moving that the petition be received.
However, councillor Sandra Coney moved an amendment to place a heritage order on the three houses - to which members of the audience cheered: "Hear, hear!"
Others gasped, looking surprised.
Ms Coney said Auckland had already lost so much of its history through the demolition of heritage buildings.
"This set of buildings [is] of regional, if not national, significance," she said.
Referring to Ms Coney's comments, Mr Brown said: "We are going to need to get some reasonable advice...as to what you're saying.
"What you're proposing is not the advice we've received so far."
Protest outside houses
Meanwhile, about 10 protesters gathered at the buildings on Turua St this morning.
Radio New Zealand reported that the protesters had barricaded the properties with cars and rubbish bins.
Georgina Mallone, who has lived in the area for 30 years, told nzherald.co.nz she had a family connection to one of the buildings.
"My granddad used to live in the middle one, probably in the 1940s," she said this morning. "That's my emotional tie to it."
Ms Mallone said St Heliers was often referred to as "St Heliers village".
"We are going to look like the Gold Coast in 10 years time - it will lose its village feel."
One local resident, whole did not want to be named, suggested the buildings would be better suited being turned into a museum of local history.
"The whole community is against it - this is part of our living heritage," she said. "It's just a scandal - a total scandal."
As the protesters stood on the footpath, workers began removing doors, windows and other fixtures from the inside of the buildings.
Dr Gabriel Reid, whose family have been in the area for five generations, said councils in Auckland had continually failed to protect the city's heritage.
"Over the course of my 42 years (living in the area) I have seen successive spineless, toothless city councils after another giving absolutely no credence to the heritage values of this part of the world.
"It's happened time and time again in Auckland and I think we'd be hard pressed to find a city which, from an architectural point of view, is quite as ugly as Auckland."
'Safety risk'
Up to seven buildings will be removed from the eastern side of the street, to make way for further development.
The Markhams have argued that the art deco homes are a safety risk and therefore need to be pulled down.
The homes were deemed unsafe by the Environment Court yesterday.
But demolition expert Mike Vickers - who knows the buildings well and who visited the site on Tuesday - yesterday said they were in "fantastic shape".
"I've seen their foundations and seen them all. They are solid. They're sound."
Mr Vickers, owner and manager of North Shore Demolition, said the developers would get more from including the three houses in their plans than by destroying them.
"I've been to a lot of [demolition] jobs and sometimes the buildings are a waste.
"All the other buildings on that street can go but those three little art deco cottages are super.
"They are a fantastic example of art deco houses in Auckland - and as a set, too, what a gift."
- With NZHERALD STAFF