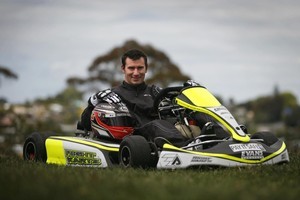 Eight years ago motocross champion Niki Urwin woke up from a three-week-long coma to learn an accident on the racing track had left him paralysed from the chest down.
The doctor explained the impact had broken his T-4 vertebrae and he would never be able to sit up without assistance, let alone ride a motorbike.
So Urwin turned to his dad: "Guess we better start racing go-karts then," he said.
Memories from the accident were lost in the trauma, but Urwin has never forgotten the emotional three months he spent in a Queensland hospital recovering. "Racing again was a private goal right from the time I was in hospital," he said.
And last week the 32-year-old Tauranga man became the first paraplegic to race at the Rotax-max go-karting world championships in Italy.
"It's a great sense of achievement to have climbled my way back to compete at an international level again. To be honest it was pretty cool to be over there with such intense competition," Urwin said.
It was bureaucratic tape rather than physical hurdles that meant he almost did not make it to the starting line.
Without the use of his feet, Urwin uses specially-made hand levers to control the throttle, brakes and gears - but these were not approved by the FIA (Federation Internationale de l'Automobile, the international racing body).
"After a bit of negotiating we were able to have some made in Europe, but I hadn't even seen the new controls until I got there. It took a bit of adjustment to get used to them."
Urwin, who likens the effect of his injury to "sitting on a Swiss ball", also met a road block when he applied for an international racing licence: He had to prove he could crawl out of his cart and quickly get a safe distance away after a crash.
"We had to jump through a lot of hoops. It was looking a bit touch and go for a while there but we made a video of me and sent it off to them, which they accepted."
Urwin made it to the finals of the masters division where he placed 21st.
"It was a great result, I was happy to get that high."
Urwin was accompanied by four other New Zealand representatives and his dad, who he said was his number one supporter.
"I literally can't go driving without him, because I can't move and shift the heavy cart. We've had advice along the way but we never hired a mechanic, so this is something we really achieved ourselves," he said.
Urwin's wife, former downhill mountain bike champion Vanessa Quinn, and his 2-year-old son Jay, stayed at home, awaiting daily updates over the internet on how the competition was going.
Urwin said his goal is to polish his technique and improve his placing next time he makes it to the world championships.
"We'd like to go back in a couple of years time to compete again. It was a totally different way of racing over there, much more aggressive. That's where my weakness was - I was too timid. "I'd like to go and give it another shot."