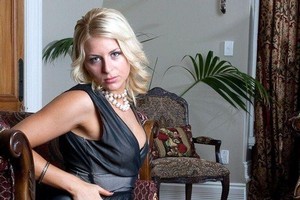 A glamour model has had serious drug charges dropped after tests showed what police thought was $500,000 worth of P was actually fake snow from the $2 Shop.
Erin Alberino, 23, faced two charges of possessing methamphetamine for supply and permitting her vehicle to be used in the commission of offences under the Misuse of Drugs Act.
She was arrested with two other men when a police raid on Feilding house recovered more than $40,000 and small amounts of P and cannabis. Three young children were also removed from the home.
During her trial Alberino argued that a large container of white powder, which police said was methamphetamine worth about $500,000, was simply fake snow.
Police yesterday told Palmerston North District Court ESR testing had determined the powder was not actually P and the charges were withdrawn, the Manawatu Standard reported.
Defence lawyer Fergus Steedman admitted Alberino was "not as pure as the driven snow" and she pleaded guilty to possessing a small amount of cannabis and she was granted diversion.
"She's been well and truly busted and any search of her name on the internet is going to throw up this prosecution."
The two men arrested with Alberino, Shan Edward Owen, 26, of Paihia, and David Louis Reid, 45, of Feilding, were also charged with drug offences and are due to reappear next week.
- NZPA