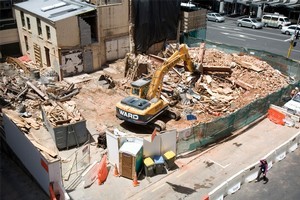 Auckland Council resumed work at the site of the demolished Palace Hotel in central Auckland yesterday, telling the owners it had to be done for "safety" reasons.
The owners of the 124-year-old hotel, previously known as the Aurora Hotel, last week blocked access to the site and filed a trespass notice against the council, stopping its workers from removing the rubble.
"Auckland Council has resumed clearing debris from the site," a council spokesman said. "We informed the owners yesterday that work was restarting in the interests of public safety."
He said the council would manage the site, and would continue to inform the Chow Group, which owns the site, about progress of the work, which is expected to take a few weeks.
Co-owner Michael Chow did not want to comment yesterday, but said he was travelling to Auckland from Wellington today to see "what was going on" at the site.
Mr Chow had earlier said the council did not consult his company about the demolition and said the council had an agenda against his company because of the type of business it was in.
He also called the police last week, telling them the council workers were trespassing, and parked two cars to block the driveway until all the demolition workers left.
He said an attempt to get his company to pay for the cleanup was "totally unfair".
There were plans to turn the property, bought for $3.3 million by Mr Chow and his brother John, into an upmarket brothel to take advantage of its location near SkyCity Casino.
Mayor Len Brown is keeping a report on the council decision to knock down the heritage building a secret because of the brothers' threats of litigation.