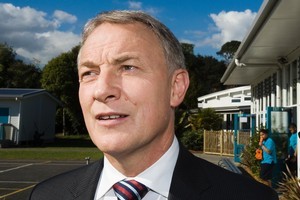 Labour leader Phil Goff will discuss the squeeze on middle income New Zealanders in one of his last major speeches of the year today.
Mr Goff said he would not be unveiling any specific policy details this far out from the election, but he would be discussing the need for an active government.
Middle income earners in New Zealand were feeling the impact of rising prices and a stalled economy, he said.
"They're not poor enough to get much in the way of help from the benefit system and they're not wealthy enough to find things pretty easy as higher income earners do."
Labour would not promise the world during the election campaign next year because there was no money to back it up, Mr Goff said.
But an active government with vision and a plan was needed, he said.
"This isn't about gimmicks, you're not going to solve New Zealand's economic problems through job summits and cycleways, it's got to be about real plans, real vision about where we need to take New Zealand."
Clean technologies would be part of that, Mr Goff said.
The speech to Chapman Tripp in Auckland this afternoon would wrap up the year and look ahead to election year next year.
- NZPA