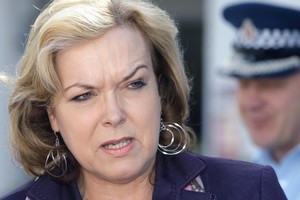 Twelve months ago Judith Collins became Crusher Collins.
A fearless Police Minister who vowed to smash the nation's boyracers by crushing the very thing that made them the scourge of the roads: Their cars. But a year after saying she would crush 10 a year under new headline making laws, how many has she crushed?
None.
Two boyracers are close to getting the crush though. They have two offences each under the new law - a third and their vehicles are gone.
Despite no crushings, Collins is adamant the law is working as offences are down.
"The great thing is they've dropped right down. Illegal street racing offences have dropped by 18 per cent which is fantastic," she said.
"I'm looking forward to my first car crushing. If someone wants to be the first one to have their car crushed that would be great.
"If they want to have a little race to see who can be the first to have their car crushed, then that's fine with me - provided they don't hurt someone in the process." Collins wasn't worried about not living up to the title.
"It wasn't my nickname. It was given to me by the Opposition. We're certainly crushing the illegal street racers because they've certainly come down.
"What this means is they're taking this seriously."
Police, courts and local authorities were given greater powers last year through the Land Transport (Enforcement Powers) Amendment Act and the Sentencing (Vehicle Confiscation) Amendment Act.
The first amendment allows local authorities to outlaw vehicles "cruising" city streets; impound vehicles; and impose demerit points for noise, licence and registration plate breaches.
The second deals with seizing and destroying offenders' vehicles and targeting illegal street racers who transgress in another person's vehicle.
Complaints hit a peak of 1023 in February. There were 686 in September.