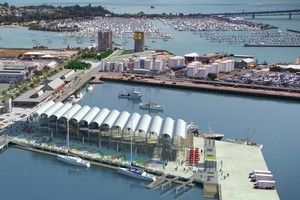 Redevelopment of Auckland's waterfront will generate $4.29 billion in extra jobs and investment by 2040, a new report says.
The PricewaterhouseCoopers report launched by associate Finance Minister Steven Joyce this afternoon paints the waterfront as vital to Auckland's economic future.
More than 40,000 jobs will be "attributable" to the waterfront within the next 30 years, the report says.
Of those, it says 17,000 would not exist without redevelopment work.
Chief Executive of the Auckland Waterfront Development Agency John Dalzell says the economic benefits of a redeveloped waterfront will be felt across Auckland.
"This is potentially the most important urban redevelopment project New Zealand has seen," he says.
"It will revitalise our tourism and events industry, attract highly skilled workers and new businesses to the waterfront, strengthen our fishing and maritime industries and attract visitors from all over the world."
A flourishing and attractive waterfront is needed to attract businesses and skilled workers to Auckland, he says.
"We are developing a social, cultural, heritage and environment showcase on our waterfront.
"This will not only attract the investment we need, but create a prime destination for people."
More than $1 billion in construction projects are scheduled to be completed on Auckland's waterfront by 2025.
They include a redeveloped Tank Farm area, a cruise ship terminal on Queens Wharf, and an "urban development transformation" of Wynyard Wharf.
About 6,600 people will be involved in construction on the waterfront, generating $390 million in GDP, the report says.
That work will create 13,600 jobs in waterfront businesses and 3,500 jobs in events and tourism, the report says.
A burgeoning cruise ship industry is also expected to play a key role in the economic benefits of the waterfront.
It will increase in size seven-fold over the next 30 years, provided a cruise ship terminal is in place, the report says.
Waterfront Development Agency chair Bob Harvey says he believes that makes the waterfront the most important urban redevelopment project in New Zealand.
"I'm wildly enthusiastic about this. It's a huge development. It has huge potential."
He praised the input of Stephen Joyce on the development.
"We're welcoming him with open arms."
Jobs at the waterfront by 2040:
20,500 direct fulltime jobs including:
* 13,600 employed in waterfront businesses
* 3,440 in the cruise ship industry
* 1880 in tourism
* 950 in major events planning
Plus some 19,200 jobs created indirectly by growth in Auckland economy