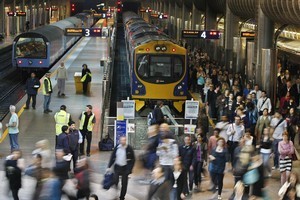 The nine millionth passenger to use Auckland's trains this year arrived at Britomart this morning, marking a record high for rail patronage in the city.
Mayor Len Brown was there to greet passengers and mark the occasion, giving away a free monthly rail pass to a randomly selected passenger.
Since Britomart Transport Centre opened in 2003 annual patronage has increased from 2.5 million million to the current level of nine million, Auckland Transport chief executive David Warburton said.
A number of improvements in the rail network - including new stations at Newmarket and New Lynn and the reopening of the Onehunga Line - were responsible for the increase.
"Timetable improvements have seen a 25 per cent increase in services and some trains have been extended from four to six carriages.
"Another major factor in the increasing patronage is the popularity of public transport for getting to events."
Public transport patronage in the city was now at its highest level since the 1950s, with 62.4 million trips made this year, an Auckland City Council spokesperson said.
The council estimated that, should a planned $2 billion rail tunnel through central Auckland be completed, rail patronage would reach 50 million by 2041, twice as much as what it would be if the tunnel was not built.
Mayor Len Brown said he hopes to complete the rail tunnel - which would link Britomart with Mt Eden station and create an inner-city rail loop - some time between 2015 and 2017.
NZPA