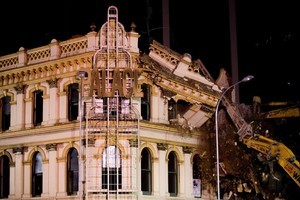 Wellington brothel owners have blocked access to the site of the demolished Palace Hotel in central Auckland and have filed a trespass notice against Auckland City Council whose workers were there this morning to remove the rubble.
The 124-year-old hotel, previously known as the Aurora Hotel, on Victoria Street West was reduced to a pile of rubble and bricks last month after cracks were found in the walls and it was deemed unsafe.
Its owners, John and Michael Chow, claimed Auckland City Council did not consult them about the demolition and that the council had a vendetta against them because of the line of business they were in.
Michael Chow said the council was trying to get them to pay for the cleanup, which was "totally unfair".
Council-contracted demolition workers were this morning made to leave the site after the brothers called the police and told them that the workers were trespassing.
"Council has a hidden agenda and they're not releasing the full report on why they pulled it down. I need to see that report, I just need fair treatment and I need to see a full report about why they pulled it," said Michael Chow.
The brothers parked two cars in the driveway to the site and refused to leave until the demolition workers were gone.
"This is my property, my land, my building - they've got no right to take anything from my land without my consent," he said.
The Aurora Hotel was renamed the Palace Hotel and there were plans to turn it into an upmarket brothel and take advantage of its proximity to the SkyCity Casino on the other side of Victoria St.
It was bought for $3.3 million by John and Michael Chow.
The council said the old hotel was originally a timber building, built in 1852, but by 1880 at least two parts of the Aurora Hotel complex existed as brick buildings. In 1884 the hotel caught fire and some sections were destroyed, requiring a rebuild.
It was associated with well known publican Paddy Gleeson and, with four other hotels, was given to his daughter, Catherine, as a wedding present in 1925.
- NZPA