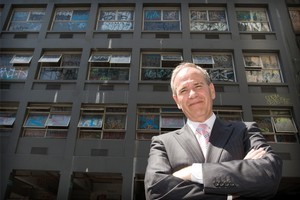 One of the tattiest buildings in downtown Auckland, the historic Yates Building in Albert St, is set to be spruced up before Christmas.
Auckland Mayor Len Brown yesterday visited the rundown, graffiti-bombed building to announce that the council had struck a deal with the owner, Stuart Galloway of Harbour City, to secure the empty building, paint the outside and possibly install closed-circuit cameras.
Mr Brown refused to reveal the "reasonable cost" for the work and what the breakdown was between ratepayers and the owner, adding the council had no intention of buying the building.
He said the building, opposite the Stamford Plaza international hotel, was an eyesore that needed securing and cleaning up. Work would start immediately on removing the graffiti and the entire project would take about two weeks, the mayor said.
"We have got continuing work to do with the owner in terms of the long-term viability and sustainability of the building.
It's a great old building. It's not the end of the story but it is a damn good start.
"The message here is we will not accept it as a standard of pride in our city ... People are disgusted by it and we are not going to accept it in the heart of our CBD," Mr Brown said.
Heritage campaigner Allan Matson, who has been fighting to save the Yates Building for six years, said sprucing it up was a temporary solution pending the outcome of an Environment Court case to determine the building's heritage status.
The former Auckland City Council assessed it as a category A building.
Council heritage officer George Farrant said the 1911 building was not grand architecture, but its historical value was the association with the Yates seeds merchant company.
Mr Galloway could not be reached for comment, but in September he told the Herald that he wanted to demolish the building but had been denied demolition consent since 2005 by a council which offered him nothing for preserving or restoring it and others.
"I'm between a rock and a hard place," he said. "These buildings are in a bad state. There's no point in tidying them up; they've been unoccupied for 15 years and are unfixable.
"The council should put money towards them if they want to keep them," he said.
Stamford Plaza general manager Peter Gee welcomed the news after campaigning for some time to have the building tidied up.
"It is great for our hotel guests, but greater for the people of Auckland seeing some civic pride by the new council stepping in to resolve."