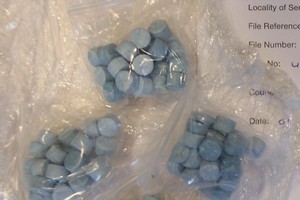 Police say they have busted an Ecstasy ring in Mt Maunganui - netting more than $4000 worth of pills and $2000 cash.
Detective Sergeant Darryl Brazier said more than 80 pills, believed to be Class B Ecstasy with an estimated street value of $40 to $50 each, were found during raids carried out at four homes on Tuesday.
One person from each home was arrested and appeared in Tauranga District Court on charges relating to the distribution of a Class B drug, including supply, conspiracy to supply and possession for supply.
They are Mt Maunganui mother Bianca Mare, 27, who faces a charge of offering to supply Ecstasy, and painter Wadye Bruce Parnell, 21, of Tauranga, who is charged with possession of Ecstasy for supply and offering to supply the drug.
Salesman Julian Anthony Casey, 21, of Papamoa, faces one charge each of possession of Ecstasy for supply, supplying the drug and offering to supply the drug and conspiring with another person to sell the drug.
Sickness beneficiary Michael David Beere-Smith, 26, of Mt Maunganui, is also charged with offering to supply Ecstasy and conspiring with unknown persons to supply the drug.
All four defendants were granted bail on strict conditions, including a ban on having contact with each other.
They are due back in court on December 20.
Mr Brazier said the raids followed a police investigation carried out over the past few weeks.
He said about 25 police from across the Western Bay were involved in the raids, which began at 7.30am on Tuesday.
Mr Brazier said the pills police found would be sent away for analysis to confirm they were Ecstasy and whether they were Class B or C.
"The evidence we've got indicates they're Class B," he said.
Mr Brazier said while arrests for Class B drugs were not common in the community, police would act on any information received.
"It's a big enough problem for us to target these people."
He said the raids were a reminder that Western Bay police would not tolerate any form of drug dealing in the community.
"So when we get the information, we'll act on it."
Leading into the party season in Mt Maunganui, Mr Brazier said it was good to get the drugs away from the people who use them.
"Ecstasy has been around for a while but there's certainly been an increase in it as a party drug of choice," he said.
- APN