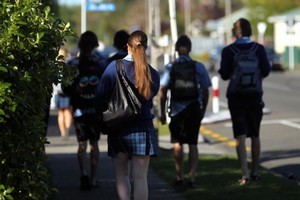 Thousands of year nine students had another day off today as secondary school teachers continue planned strike action.
The final strike day of the year, it did not apply to Greymouth's two high schools in respect for the Pike River mine tragedy, while Kaiapoi High School was also exempted due to damage suffered by the town in the massive September 4 Canterbury quake.
There has been one full day of strikes since industrial action began in September and seven days of rostered strikes.
The Post Primary Teachers Association (PPTA) and the Ministry of Education have been unable to reach agreement over class sizes and hours, security of the collective agreement without clawbacks, and a 4 percent pay rise.
PPTA president Kate Gainsford said today she was hopeful that an agreement could be reached this year.
"We have met with so many obstacles that I have to wonder whether the Government ever wanted to settle with secondary teachers...," she told NZPA.
The PPTA would meet with members on December 16 to discuss possible next steps - one of which could be escalation of strike action in 2011.
- NZPA