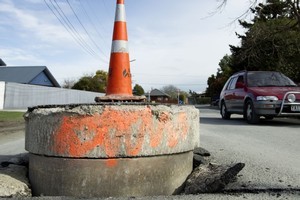 Christchurch City Council is urging residents to check their properties for storm water and waste water pipe damage ahead of the cut-off date for claims to the Earthquake Commission (EQC).
Claims with the commission must be laid before this Saturday, December 4.
The council said indicators of pipe damage included slow flushing toilets, slow draining baths, showers and kitchen sinks, earth movement or cracks around wastewater drains, overflowing gully traps, and unpleasant smells.
The council said residents who suspected damage should call a registered drainlayer or certified competent wastewater service provider for advice.
Mark Christison, the city water and waste manager, said anyone concerned about possible pipe damage on their properties should address the issue now.
"The cost of a CCTV inspection of drains will only be covered by EQC if damage is found," Mr Christison said.
"If no damage is found then the investigation cost remains the responsibility of the householder."
- NZHERALD STAFF