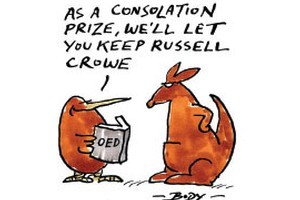 The battle with Australia for the pavlova is all but over. According to the Oxford English Dictionary the delicious dessert was created in New Zealand.
The OED was relaunched online yesterday with 600,000 words - 1386 of which have a lingual link to New Zealand.
The OED came out in favour of New Zealand's argument for the pavlova after stating the first recorded recipe was in 1927 in Davis Dainty Dishes, a publication by Davis Gelatine (NZ).
There are also nearly 300 words included which originate from the Maori language. Pakeha is now recognised by the OED as an official word with the first recorded use in 1817.
Kiwis' reluctance to start the working week has also been noted with the first recorded case of Mondayitis being noted in a local dictionary in 1979.
However, the Australians were the first to escape work by pulling a sickie with references to the act in 1953.
New Zealanders can now also officially deem something broken and half-cooked in local slang because of it being "pukeroo" and "half-pie".
Trampers and adventurers can also thank New Zealand for the nutritious combination of nuts, chocolate and dried fruits known as scroggin, which was first recorded in 1944.
The OED reached these conclusions about the origins of words because the 126-year-old dictionary aims to trace every sense of every word in the English language.
The dictionary's relaunched website also reveals some interesting words from other eras.
For example, 300 years ago, men were bending down on one knee, taking their loved one's hand and asking them to "join giblets" with him.
The website reveals the many ways which people have insulted one another over the years including bean eater, namby-pamby and nincompoopiana from the 18th and 19th centuries.
The meaning of recession has changed over time, because in 1606 it originally meant a temporary suspension from work.
It did not garner its current meaning of an economic decline until 1903 when a newspaper used it in that context.