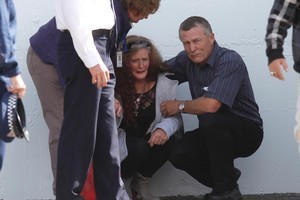 Support for families of the 29 victims of the Pike River mine has been "unbelievably overwhelming", with funds continuing to pour in, Grey District Mayor Tony Kokshoorn says.
"We have got bags and bags of mail coming in from ordinary New Zealanders and it's just fantastic. It is getting to the families that they are being supported, and it's helping," Mr Kokshoorn told NZPA today.
The Pike River Miners Relief Fund has reached at least $2.3 million. The fund is being managed by a charitable trust set up through the Grey District Council.
A separate fund set up by Pike River Coal has reached about $1.5m, including $500,000 each from the company itself and its cornerstone shareholder, New Zealand Oil & Gas, and $50,000 from Lyttelton Port of Christchurch.
Mr Kokshoorn said he would be pushing for the two funds to merge in the coming weeks.
"It has been bad, bad news for the past 11 days and the little things like this will help. There has been over $4m raised and I can't say how grateful we are, it is unbelievably overwhelming. I'm just so grateful for anything people can give the families," he said.
The men's families are also expected to receive a total of between $10 million and $20 million from ACC.
ACC payments would comprise weekly compensation of up to 80 per cent of wages, plus a funeral grant, and a one-off payment of nearly $5000 for widows and nearly $3000 for children.
How much each man's family would get would depend on how much they earned in the previous year.
Grey Council's financial manager Ian Young, who is managing the fund, said he was still trying to catch up with donations and he was not sure of the exact amount donated.
"We didn't think we would get this much of a response. We have had at least $1.5m from businesses and the rest from people around the country," he told NZPA.
Mr Young said only time would tell how much money would be needed to support the families.
Donations could be made to the fund by direct credit to 06-0501-0121759-02 or by post to Pike Miners' Relief Fund, PO Box 2793, Wellington.
As of yesterday morning, 51,531 text messages of support had been received, raising $154,593. Texts cost $3 each and can be sent to 306.
The Engineering, Printing and Manufacturing Union has also set up a fund, and donations can be made at any Kiwibank branch or direct to bank account: Kiwibank 38-9011-0165987-00.
Half of the funds donated would go to the fund being administered by the council and the other half would be used to establish a dedicated fund for the education of the children of those killed.
The major banks have also set up separate funds to support the men's families.
- NZPA