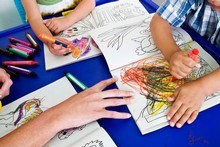 It was "business as usual" for schools in the Greymouth area yesterday, as children returned to class.
About 120 teachers met Ministry of Education representatives on Sunday to discuss how schools would run this week. Teachers were told normality was the key.
It is not only those directly linked to those missing that teachers are looking out for.
"There were a number of things we didn't anticipate," said Greymouth High School principal Jim Luders.
"Kids whose parents are down other mines are a bit shaky. That was a factor we hadn't thought of."
He said students with fathers and relatives in the mine rescue teams were also feeling it.
"We're watching them just to make sure there's no comments being made by other kids about 'why isn't your dad just going in there'. That hasn't happened but we're keeping an eye out."
Mr Luders was surprised by the number of students yesterday.
"I didn't expect so many. But they've turned up and they're quite bubbly, which I also didn't expect.
"This is their safe haven. They've come back here to feel normal, and that's what we've stressed to staff - hide your feelings and keep the show going and keep the routine going. Kids need the safety of their routine."
Counsellors were available at the school, but had not been needed yet.
Mr Luders said none of the children with fathers or relatives missing was at school yesterday.
There had been no special assembly or mention of the trapped miners, but Mr Luders said he would assess that depending on the outcome.
"I don't want to highlight anything by making a big deal out of it - especially just yet. When there is an outcome we will decide then what to do.
"They [ministry of education] recommended that we keep school as normal as possible, that's the best way to support the children," said Karoro School principal Maureen Trueman.
"We're business as usual. People are fine at this point."
Blaketown School principal Dulcie Bell said staff were not doing anything differently from any other day.
"Our concern is looking after the children for the families. We've got everything in control, we've got help on hand if we need it - the ministry has made certain that's set up."
Bell said teachers spoke to students about the situation within their own classes yesterday morning.
"If the children want to talk about it more, we talk about it."
By Anna Leask