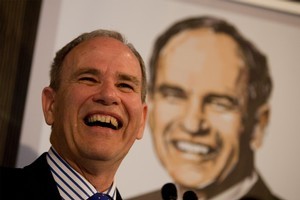 Auckland Mayor Len Brown has changed his tune on the consent process for a new 1500-bed prison in South Auckland, leading to an accusation he is putting Wellington's interests ahead of those of Auckland.
Mr Brown told the Manukau Courier on November 9 there was no "need to fast-track this particular project" - the proposed men's prison at Wiri.
"The Government should work through the proper process and engage in genuine dialogue with the local community," he said.
Last Tuesday, Mr Brown told the Herald he supported the recommendation of council officers to refer the project to a board of inquiry, which would allow the project to bypass the usual resource consent process, which is subject to appeals to the Environment Court.
The following day, he voted at the Auckland Council for fast-tracking the process in nine months with no right of appeal, except to the High Court on points of law.
Manurewa Local Board chairman Daniel Newman said Mr Brown's support for a board of inquiry meant the project was a done deal.
"Mayor Brown needs to be advocating for his constituents. This means standing up to the Department of Corrections and the Environment Protection Authority, and not aligning with the fast-track preference of those two big bureaucracies," he said.
Yesterday, a spokesman for Mr Brown said because the Government had decided to go down the path of a board of inquiry "the mayor followed the advice of officers when council met last week".
"Their advice was that the process would provide an appropriate forum for the community to have its say and for the council to lodge a submission on behalf of the local community."
The spokesman said Mr Brown's support for the board of inquiry did not mean he supported the prison as proposed.
The mayor had expressed concern about the prison and the process involving it in correspondence with Corrections Minister Judith Collins.
Manurewa-Papakura councillor Sir John Walker told last week's council meeting that his community did not want the prison.
On Friday, Environment Minister Nick Smith said he had accepted the recommendations of the Environmental Protection Authority, with support from the Auckland Council, to refer the proposed prison to a board of inquiry.
Other options were the normal council process or referring the matter directly to the Environment Court.
"The disadvantage of the council process was that as a designation, the council only makes a recommendation and the final decision is for the Minister of Corrections," Dr Smith said.
"The Environment Court process is more formal than a board of inquiry and would limit participation by citizens wanting to be heard without legal representation."