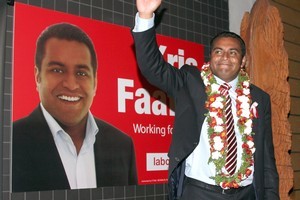 Labour's leadership was yesterday putting on a brave face over the party's sharply reduced majority in the weekend's Mana byelection which sees Kris Faafoi enter Parliament as its newest MP.
Mr Faafoi, a former television reporter who was leader Phil Goff's press secretary until he was selected to run in Mana, won with a majority of 1080 votes against National list MP Hekia Parata.
Winnie Laban, whose resignation this year triggered the byelection, beat Ms Parata by more than 6000 votes in the last general election.
As is usual in byelections, voter turnout was low at 54.7 per cent. Nevertheless, Labour's reduced majority represents a 14 per cent swing to National.
Yesterday Mr Goff refused to acknowledge that, saying the 47 per cent of the vote Mr Faafoi secured was an improvement on Labour's party vote in the electorate in 2008.
He said Mr Faafoi was a first-time candidate replacing Ms Laban, who had an established reputation and a huge amount of personal support built up over 11 years.
In Ms Parata, Mr Faafoi was up against a veteran of three elections, including two in the electorate, who had maintained an office there for two years.
"In the circumstances we think that was a bloody good result ... it was above the level we had expected."
Labour Party president Andrew Little said the result was "not necessarily a swing to National".
"You've got to look a little bit askance at the result and say 'does it truly reflect the sentiment of the electorate?' and I'm not sure that it does. The next real test will be in the general election next year and we'll see what happens with Kris Faafoi and the votes he's able to pull then."
Mana had been regarded as a safe Labour seat and Mr Faafoi as a shoo-in which in itself may have affected voter response.
"The turnout tends to be low when people think that their favourite is going to get home."
However independent candidate Matt McCarten, the Unite Union boss who some thought would split the left vote said he was surprised at the result. He thought Labour would win with about a 3000 vote majority.
He believed the low turnout and reduced majority was at least partly because of Labour voters staying at home because they were unhappy with Mr Faafoi's selection.
"I don't know how deep it was, but it was a constant thing that came up."
During the campaign Mr Faafoi faced criticism that he was a "carpetbagger" as he did not live in the electorate and his ties with the community were not as strong as he claimed.
That was unfair on Mr Faafoi, but nevertheless a fairly prevalent view, he said.
Independent candidate Matt McCarten said the low turnout happened in spite of impressive work by the Labour machine, particularly during the final days of the campaign with party and union members out in force doorknocking and working phones.
"There was a Labour MP on every corner."
Mr McCarten also observed Ms Parata was "a very confident, articulate campaigner" who tended to get the better of Mr Faafoi in one-on-one exchanges.
Blogger David Farrar also thought the result was a reflection of Ms Parata's work and abilities.
"I don't think in the end it was about National or Labour, I think it was that Hekia ran a good campaign."
Mr Farrar believed Labour "over-egged" claims of Mr Faafoi's community ties, and at least some voters probably felt he was selected because he was of Pacific Island origin and worked for Mr Goff.
"Certainly there was some backlash from Pacific Islander voters I spoke to who felt that it was a bit tokenist."
Mr Farrar said he understood National was genuinely pleased with the result despite the loss and it was "possibly better than they'd hoped for".
"It's certainly deprived Labour of the opportunity to talk about 'we're relevant, the people have endorsed us.' But I don't think it's an endorsement for National."
He didn't think the swing to National would show up in national polling.
Although the result was certainly not helpful to Mr Goff, his leadership was probably secure until next year's election.
"If they'd lost he would have been dog tucker."
Labour retained its core support in the key Porirua East sector of the electorate which Mr Farrar believed had carried it. But while it outpolled National in West Porirua it suffered from an 8 per cent swing there.
In the electorate's northern suburbs - Ms Parata's stronghold - she enjoyed a 22 per cent swing in her favour.
The people speak
* Kris Faafoi (Labour)10,397
* Hekia Parata (National) 9317
* Jan Logie (Green Party) 1493
* Matt McCarten (independent) 816
* Colin du Plessis (Act) 132
* Julian Crawford (ALCP) 107
* Sean Fitzpatrick (Libertarians) 43
* Kelly Buchanan (Alliance) 37
22,387 votes cast -
54.7 per cent of those enrolled