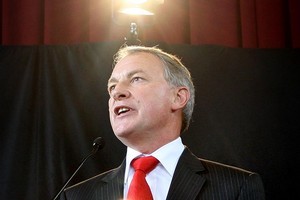 Byelections have not always been the rarity they are today. Through the wonders of Wikipedia, we can easily discover that four deaths and a resignation precipitated five byelections in the 17th Parliament from 1909 to 1911.
Compare that with the fact that only two byelections have been held since MMP began in 1996.
They were big deals, both prompted by the resignation of former prime ministers after defeats at the hands of a caucus coup for Jim Bolger and at the hands of voters for Helen Clark.
The Mana byelection today is the second byelection this term, putting it into the realms of pub quiz trivia.
The 5am starts to provide bodies for human hoardings or railway station leafletting are taking their toll on MPs from all sides of the House.
Byelections suck up resources and energy that most parties would rather preserve for general elections.
And the MPs are being distracted from their regular duties and the issues that really interest them.
Labour leader Phil Goff and National Prime Minister John Key are hoping to avoid any more.
But the political horizon features at least three more byelections - Manurewa, Botany and Te Atatu.
A month ago, a byelection in Botany, held by Pansy Wong, would have been unimaginable.
It has become a real prospect after further investigations into possible misuse of the international travel perk, and the deep loss of face she and her husband are facing, whether or not misuse is found to be serial.
Ironically it was Labour's Manurewa MP George Hawkins who helped make Botany safe for National.
Against the wishes of the Labour Party, Hawkins supporters lobbied the Representation Commission to change the draft 2008 boundaries to make Manurewa more secure - and made Botany safer for National.
Hawkins has always had an individual streak.
No one knows better than Goff who this week, in the midst of the Mana byelection, has been working overtime to avoid a byelection further up the country.
Hawkins has been elected to a local board of the Auckland Council and has announced he will not stand at the next election.
A huge battle is going on beneath the relatively calm waters over his replacement for the safe seat he won last time with a majority of 6726.
The battle for Manurewa is not so much between the candidates as between Hawkins and the largest affiliated Labour union, the Engineering, Printing and Manufacturing Union, headed by Labour president Andrew Little.
Local boy and union organiser Jerome Mika is one of seven people seeking the candidacy, and Hawkins doesn't want him.
It is not personal. It is that Mika is the pick of his Engineers' Union and has a good chance of winning.
But as the selection draws nearer, the fear of Hawkins resigning if he doesn't like the result has become stronger in the party.
Some think it is an empty threat and that Hawkins would not want to forfeit a year's parliamentary salary of $131,000 to protest at a union-backed candidate being selected.
Goff does not think it is an empty threat or he would not have had a private meeting with Hawkins on Tuesday in an attempt to dissuade him from resigning.
The bad blood between the unions and Hawkins has a long history.
It goes back to 1990 when Hawkins, then Mayor of Papakura, won the party's nomination after former Labour Finance Minister Sir Roger Douglas stepped out of politics.
The unions backed left winger Alan Johnston, a South Auckland housing activist at the time, who has since stood for the Green Party. They lost.
Hawkins was backed by the Douglas acolytes in the party at a time when Douglas was a pariah of the left.
Hawkins' strongly independent streak was managed skilfully by Helen Clark.
But the incentives for tight discipline are weakened when a party is out of Government.
The unions wanted Hawkins out in the last election, but he dug in. They made clear that he would be challenged if he sought to run again next year.
Whether he remains an individualist or a rebel will depend on the selection.
And Goff's standing will take a hit if he can't stop Hawkins.
The result of Manurewa's selection meeting on December 12 may also have consequences in Te Atatu, where a new Labour candidate will be selected on December 18.
The unions have formed a consensus around left-leaning list MP Phil Twyford and ex-Labour incumbent Chris Carter has spoken of him positively and publicly.
With those factors and the fact that Carter still has a strong relationship with the Labour electorate committee suggest Twyford is favoured to win.
But the gender issue is looming as a big factor.
Four Labour women MPs lost seats in Auckland in the last election, and after David Shearer won Clark's old seat in the Mt Albert byelection, none of the 18 Auckland seats is held by a woman.
For a party that champions feminist politics, some of its feminists see it as unacceptable that Auckland women MPs are list only.
They would argue that Labour selections for safe seats have gone to men and that the women should get some of that traditional seat security.
And if that view finds favour then Kate Sutton, a former women's vice-president, could upset Twyford's favouritism in Te Atatu.
In the case of Te Atatu Labour has to be ready for a byelection.
Having expelled Carter for disloyalty, it can expect no loyalty from him in preserving its fighting fund.
If he gets a good job offer in the next few months he is expected to resign, forcing a byelection.
Whichever way it goes tonight, MPs from both sides will breathe a sigh of relief.
But the relief may not last long.