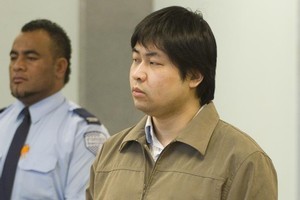 The mother of murder victim Yi Ren cried so much after her daughter's death she deprived her brain of oxygen and half her body was paralysed, a High Court judge said today.
Ms Ren's sister Yu Ren said in a victim impact statement her father was also hospitalised for a heart condition after Ms Ren was stabbed to death by Peng Cheng Tian, Justice Douglas White told the Auckland High Court.
Justice White jailed Tian, 25, for life with a minimum period of 10 years for the murder of Yi Ren, 30, at her inner-city Auckland apartment in September 2008.
The jury of seven men and five women returned their unanimous verdict of guilty in October.
Justice White said Yu Ren expressed incomprehension in her victim impact statement that Tian had killed someone who treated him as a brother, and that the impact on her parents had been huge.
"Her father has been hospitalised for his heart condition, and her mother developed a brain disease," Justice White said.
"Yu Ren said constant crying caused a shortage of oxygen to her mother's brain. It paralysed half her body and she foresees a life of sadness.
"Yu Ren said she would have liked to be here for sentencing but she cannot leave her parents to travel."
Justice White said Tian had carried out a frenzied attack on Ms Ren before stuffing her body in a suitcase.
"You killed your friend, panicked, and tried to cover your tracks, irrationally and ineffectively," Justice White said.
At trial, the prosecution said Tian, a friend of Ms Ren, stabbed her to death at her Newton apartment after their relationship soured over a business deal involving a car.
During the attack he severely cut his left hand with the knife, almost severing his thumb.
He then placed her body in a suitcase before calling 111 and telling the operator what he had done.
The Crown submitted today that the attack was sustained, leaving Ms Ren with two fatal wounds to her chest, a laceration to her head and wounds to her arms.
Crown prosecutor Sam Wimsett said Tian had brought a bag with two knives, plastic bags and gloves to the murder scene.
He said Ms Ren's body was also subjected to "indignity" when Tian stuffed Ms Ren's body into a suitcase.
Mr Wimsett said the Crown was seeking a minimum period of 12 to 13 years.
Tian's lawyer Paul Davison QC said his client maintained that he did not fatally stab Ms Ren but was remorseful for his role. He said Ms Ren had attacked Tian, not the other way around.
Mr Davison said Tian did not deserve a longer prison sentence than the statutory 10 years minimum parole for murder.
At trial, Mr Davison told the jury at trial that it was Tian's drug associate, Jing Yang Zhang, also known as Michael Zhang, who killed Ms Ren.
Mr Zhang put plastic bags over his hands and feet, collected Tian's knife and went into Ms Ren's bedroom, where he stabbed her three or four times, killing her, he said. Mr Zhang called Tian to help him get her body in a suitcase, and told him that he must take the blame for the killing and if he "sold him out", Tian's girlfriend would suffer the same fate as Ms Ren, Mr Davison said.
The jury did not agree.
- With NZPA