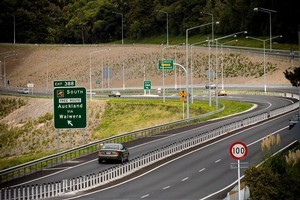 Government transport officials are promising to take their lead from the Auckland Council when deciding whether to provide Puhoi residents with access to a proposed $1.65 billion highway to Wellsford.
The Transport Agency sparked an outcry from the Puhoi and nearby Mahurangi West communities in June when it announced they were unlikely to gain a direct connection with the 38km dual carriageway.
But although an access point was not shown on a preferred route announced on Wednesday, agency northern director Stephen Town said a decision had yet to be made and would depend on the Auckland Council's land-use aspirations.
He confirmed to the Herald yesterday the agency would make the final decision, but added: "We are going to take considerable notice of what the Auckland Council's plans for that part of Auckland might be."
Mr Town said a decision about providing access to the historic settlement of Puhoi, which fears major economic damage if visitors are unable to reach it without travelling up the old coastal route from Orewa, was not required for some time.
"It is not one that needs to be made in a rush - it can wait several years before we make it and hopefully working with our partners we'll be able to make an intelligent decision on Puhoi access."
Although the agency hopes to start the Puhoi-to-Warkworth leg of the project in 2014, it will take four or five years to complete.
Auckland Council transport committee chairman Mike Lee said the official view was still one of opposition to the highway.
He said that position, inherited from the former regional council which he also chaired, was based on a preference for upgrading the existing State Highway 1 "quickly and economically, saving funds for the CBD loop [inner Auckland rail tunnel]".
But he added that the policy was that, if the road went ahead, it would be "appropriate that the existing access to Puhoi is protected".
Mr Town said earlier that the agency did not believe the existing route, which includes the difficult and dangerous Schedewys Hill and Dome Valley sections, could be widened enough for the efficient movement of people and goods required by the Government.
But Mr Lee said no business case had been established for what he still derides as "the holiday highway".
"It has come out of political motivations."
He acknowledged the Auckland Council's policy could change, given comments last month by Mayor Len Brown that because the Government had designated it one of seven new roads of national significance, "I'm not going to get myself overly involved in that debate".