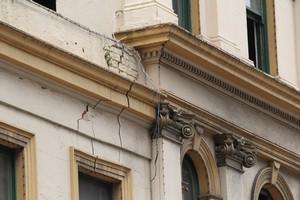 A 124-year-old heritage building in downtown Auckland is going to be demolished.
Auckland Mayor Len Brown has just announced the landmark building, which was to be re-opened as a brothel in May, will be demolished.
The old brick Palace Hotel on Victoria Street West - which was under renovation and due to be turned into a brothel - was evacuated after someone noticed cracks in the brickwork.
Council engineers and a surveyor were inspecting the Palace Hotel, formerly known as the Aurora Tavern, after a member of the public noticed the cracks about 4pm.
Metre-long cracks were visible around the windows on the second floor.
"There was some sort of restoration underway, and that was its planned use I believe," Auckland Council spokesman Glyn Walters said.
The original building, built in 1886, appeared to be sound but the cracks were in two annexes, added in 1889 and 1912.
Both those annexes were showing signs of serious cracking, and a decision was to be made early this evening about whether to demolish them, Mr Walters said earlier today.
"While it's a tragedy to lose parts of a listed building, health and safety of people around it come first."
Police and fire services evacuated neighbouring buildings as a precaution and have closed the surrounding block of buildings it is in.
Police inspector Chris Robinson said the hotel, opposite Sky City, "could collapse at any time".
The Palace Hotel, also known as the Aurora Hotel or Aurora Tavern, was sold to the Chow group for $3.3 million in 2008, who were working with an international adult entertainment company and hoped to reopen the premises next year.
Police have cordoned off Victoria Street West between Hobson
and Albert Streets. Federal Street between Victoria St and Kingston Street is also closed.
- NZ Herald staff