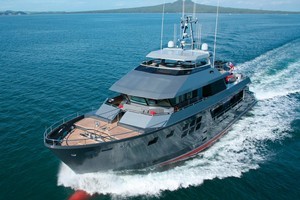 New Zealand has an outside chance of hosting the royal honeymoon, with bookmakers putting us among the destinations Prince William and Kate Middleton could choose.
New Zealand comes in ahead of Thailand, Spain and France on a list by British bookmaker Ladbrokes, which has Kenya leading the list as a 3-to-1 favourite.
Tied with the African nation is a cruise on board the Royal Yacht Britannia.
Scotland is 6-to-1 while South Africa is rated 10-to-1.
No dates have been set for the wedding but the couple said it would be some time during the northern spring or summer.
During his visit to New Zealand this year Prince William said that he hoped to return for the Rugby World Cup next year.
RWC 2011 boss Martin Snedden said cup organisers would "obviously warmly welcome" Prince William and any other member of the royal family coming to next year's tournament.
"We know Prince William and Prince Harry are keen rugby fans, they have been to previous tournaments and should they be keen to come to RWC 2011, we are sure they would add to what will be a wonderful occasion for New Zealand," said Mr Snedden.
It is not clear if Miss Middleton is a rugby fan but celebrity real estate agent Michael Boulgaris said it would be "a privilege" to see the royal couple in New Zealand.
He doubted they would stay in the exclusive accommodation he markets like a secret Bay of Islands resort that charges its clients up to $30,000 a night.
"That's for the complete package, jetskis, helicopters in and out, spa treatments, anything you want really."
Mr Boulgaris said that when Princess Diana and Prince Charles came to New Zealand in 1983, the young Princess wanted a house where she could swim so the couple stayed at a private Auckland home with a pool.
He believes Prince William and Miss Middleton are likely to avoid hotels and rent a private residence, probably in Auckland.
If the royals preferred something offshore, they could charter the 45-metre superyacht Big Fish - for $254,000 a week, not including expenses.
37 South director Allan Jouning said the price was typical for superyachts of that class but cheaper than the going rate in the Caribbean and Mediterranean.
Meanwhile, Prime Minister John Key said he would write to Prince William to offer his congratulations.
"The Prime Minister is thrilled at the news of Prince William and Kate Middleton's engagement and wishes them all the best for their upcoming wedding," said a spokeswoman from Mr Key's office.
Ladbrokes is also offering odds on who will design Miss Middleton's dress, the sex of the couple's first child and who will be Prince William's best man.
PLENTY OF CHOICE FOR THE RICH AND FAMOUS
Hire the 45m superyacht
Big Fish for $255,000 a week. The price doesn't include fuel, alcohol, crew gratuities, dockage fees.
Or Michael Hill's VvS1
It's slightly smaller at 24m and with a lighter pricetag of $104,000 a week.
Mystery Bay of Islands resort
For $30,000 a night clients can be choppered in, provided with jetskis, have onsite spa treatments and an executive chef at their call.
Mercury Island
Great Mercury Island is owned by businessman Michael Fay. It has two luxurious residences and can be hired for around $20,000 a day.
The ultimate NZ package
For a little under $25,000 the newlyweds could stay nine nights at three luxury lodges; Kauri Cliffs, Cape Kidnappers and Matakauri.
THE ODDS
* Cruise on Royal Yacht Britannia or Kenya - 3/1
* Scotland - 6/1
* Wales, Englandor South Africa - 10/1
* Australia - 14/1
* Maldives, New Zealand, Canada - 20/1
* India - 25/1
* Butlins orFalkland Islands - 1000/1
- Additional reporting NZPA