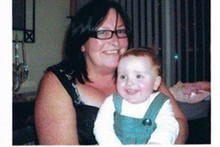 The day before she was brutally murdered, Lindsay Lamont gave her volatile husband an ultimatum.
Mrs Lamont, whose family made their home on the South Island's West Coast after emigrating from Glasgow in 2005, told butcher Peter Lamont that if he did not get his act together, she would be making a planned return visit to Scotland a permanent move, says close friend Rose Ruddle.
The next day, July 5 last year, after the couple argued about money and their salami business, Lamont "snapped" and stabbed his wife 26 times.
He used three knives, breaking two and bending the blade on the third.
Lamont, now aged 48, this week admitted the murder when he appeared in the High Court at Christchurch.
He surrendered to police a day after the killing.
He had tried to kill himself and left a note saying "sorry Lindsay" and asking his teenage stepdaughter Falon to look after the girls, referring to the family dogs.
Falon has since returned to Scotland to be with other family members.
The Herald has learned that claims were made to police of domestic violence in the Lamont household before the killing.
Mrs Ruddle recalled an "outburst" when she was at the Lamonts' home for a birthday about a month before the killing.
"[Lamont] just completely lost the plot and went off the handle that night.
"I was a bit worried about [Mrs Lamont] then, and I broached it with her.
"But she just brushed it off, just saying it was the usual stresses and so on."
Mrs Lamont was a warm and generous person, and a lot of fun to be around, Mrs Ruddle said.
The mother of two idolised her granddaughter in Scotland.
Although she was a little homesick, and might have been keen to return to Scotland, she got on well with everybody in her adopted home.
The Lamonts bought the Blackball Salami Company in 2006, and Mrs Lamont worked in the business reluctantly, Mrs Ruddle said.
Falon had had her life "turned upside-down" after planning a career in New Zealand as a pharmacy technician. It was possible she would return one day.
Lamont is to be sentenced in Greymouth on December 16.
His lawyer, Doug Taffs, said he would be seeking less than the 17-year minimum non-parole term.
By Jarrod Booker

Email

Jarrod