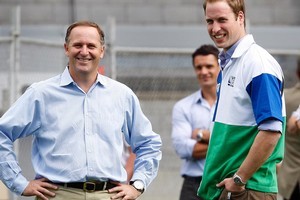 Prime Minister John Key is writing to congratulate Prince William and Kate Middleton on their engagement.
Royal officials announced overnight Prince William will marry Ms Middleton next spring or summer in London, ending years of rumoured splits, reconciliations and will-they, won't-they speculation.
Prince William is second in line to the British throne after his father Prince Charles, and his first child would move ahead of Prince Harry to become third in line to the throne.
"The Prime Minister is thrilled at the news of Prince William and Kate Middleton's engagement and wishes them all the best for their upcoming wedding," a spokeswoman for Mr Key said.
"The Prime Minister says Prince William is a fine young man who made a great impression when he visited New Zealand in January."
He would write offering his congratulations.
Monarchy New Zealand chairperson Simon O'Connor said the news was exciting for the couple but also for New Zealand.
"They're part of New Zealand's royal family, now Kate's going to be the newest part of that family," he said.
"Ultimately this is part of our royal family of 16 realms, so that'll bring focus to not only to the UK but also to New Zealand if we use the opportunity right.
"It's media attention, so we've got the Rugby World Cup next year and a royal wedding, with a spot of luck, as is often the case, they'll come down for a visit as well."
Prince William gave Ms Middleton his mother's engagement ring, proposing with the blue sapphire and diamond ring given to Diana, Princess of Wales, in February 1981.
Mr O'Connor said that was a nice gesture.
"I think it's that connection of the past and to the future. Obviously Diana is very, very important to William and so this is a really poignant, passionate gesture on his part."
Mr O'Connor said Prince William had been considerate.
"It has taken a while to take the step, but obviously it's well-considered and I thought it was nice touch that he asked not only the Queen's permission, but Kate's father and family."
- NZPA