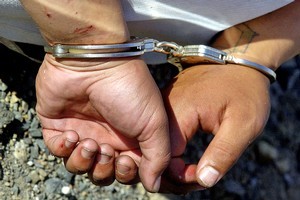 A West Coast butcher has admitted murdering his wife, whom he stabbed 26 times at their home last July.
Peter Lamont told police he had snapped during an argument with Lindsay Jane Lamont at Ikamatua, 54km north of Greymouth, on July 5.
He turned himself in to the Greymouth police the next day and told them "a veil had descended over him", Crown prosecutor Lisa Preston told the High Court at Christchurch yesterday after Lamont's guilty plea.
Justice Christine French remanded Lamont in custody for sentence in Greymouth on December 16 and ordered a pre-sentence report.
Counsel for Lamont Doug Taffs said psychiatric reports prepared for the trial would be made available for sentencing.
He also said the defence would seek less than the 17-year minimum non-parole term. Mrs Preston told the court that Lamont, now aged 48, had emigrated from Scotland with his wife in 2005.
He worked first as a butcher but then bought and ran the Blackball Salami Company at Blackball, 22km northeast of Greymouth.
The couple were drinking at the hotel in Ikamatua on the evening of July 4.
Mrs Lamont wanted to leave but her husband wanted to stay and finish his drink. She left on her own and Lamont followed about 10 minutes later. Their daughter was staying in Greymouth that night.
The couple began arguing about money and the business. Mrs Lamont worked at a local medical practice but also did the books for the salami company.
Lamont was preparing food while they argued and he suddenly stabbed his wife with the kitchen knife.
He inflicted 26 wounds on her head and neck area, using three knives. After the attack began, she fell to the floor bleeding heavily and was attacked as she lay there.
Lamont broke two knives and the third knife blade was bent.
Lamont then went to the garage and attempted to kill himself but he only fell asleep. He woke in the morning and saw his wife dead.
He then drove to a supermarket in Greymouth where he bought beer and an apparatus with the intention of using it to commit suicide. At Blackball he drank beer and left a note saying, "Sorry Lindsay," and asking someone to look after their daughter.
He then tried to commit suicide in the chiller room but failed and handed himself in to the police.
- NZPA