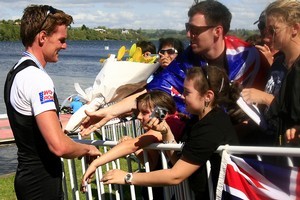 Auckland's bottle-throwing league fans have been shown up by the well behaved rowing fans of the Waikato, police say.
Crowd behaviour has been under fire since bottles and other missiles were thrown at players and spectators in the New Zealand-Australia league clash at Eden Park on Saturday.
That contrasted with the excellent conduct of the 60,000 fans who attended the World Rowing Championships in Lake Karapiro last week, Waikato police said.
Inspector Paul Carpenter said there were virtually no problems at the event.
"In all my years of policing I would struggle to recall any other event where the crowd behaviour has been so positive and the organisation so thorough.
"The Rowing World Championships were a unique experience to Police in that we too had large numbers of fans, alcohol was for sale at the venue, but we had no problems at all. It appears rowing fans were there for the event, not at an alternative venue for drinking."
Waikato Police had used the event to test a number of procedures in the build up to next year's Rugby World Cup, he said.
- NZHERALD STAFF