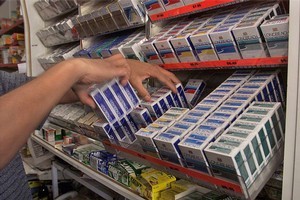 There is no evidence of a spike in tobacco-related crime due to price increases, and claims of potential organised crime are being overblown, says Maori affairs select committee chairman Tau Henare.
After a year-long inquiry, the committee yesterday released a report recommending strict measures aimed at halving smoking by 2015 and turning New Zealand into a smoke-free nation by 2025.
It wants the Government to reduce the amount of tobacco imported, force tobacco products to be sold in plain packaging, extend smoke-free areas to vehicles, ban vending machines, make tobacco companies fund smoking cessation products and ban tobacco displays in shops.
The report has plenty of support from health sector representatives, opposition MPs and the Maori Party, but a response from Cabinet is likely to be tempered.
Besides tobacco companies, one of the report's main opposers is the Association of Community Retailers (ACR), which argues that enforced changes to displays will be costly, and price spikes and limited supply will lead to more robberies and organised crime feeding a black market.
A spokesman from Police National Headquarters in Wellington said not enough statistics had been compiled since cigarette prices went up 10 per cent in May to suggest whether there had been a spike in tobacco-related robberies. Those figures would become clearer when statistics were released next April.
The ACR's tobacco spokesman Richard Green said statistics aside, his own experiences, and publicity about tobacco thefts over the past few months, pointed to an obvious increase in tobacco-related crime since May.
He argued it would only get worse with further price rises set for next year, and worse again if the select committee report's recommendations were implemented. Organised criminals would target bulk thefts of tobacco, while it was also realistic to expect bulk illegal imports, he said.
In terms of cost to retailers, having to redesign shop displays would hit retailers in the pocket, as would the drop in takings.
Mr Green said while his stance was about protecting small businesses financially and in terms of safety, there were also concerns about an erosion of rights.
"I want freedom of choice," he told NZPA. "I want our fundamental human rights given back to us in New Zealand."
Mr Henare said no evidence was provided to the select committee about a spike in robberies because of tobacco price rises.
"You might as well say it's because of the alignment of Mars and Jupiter," he said.
"All they are worried about is their bottom line, quite frankly, and if they are worried about their bottom line because of tobacco sales, then as far as I'm concerned they are just tobacconists, they are not dairies or retailers."
Mr Henare laughed off suggestions that strict controls could create a black market here, as tobacco was difficult to grow and it would be difficult to illegally import in anything but tiny quantities.
There has been speculation about links between the ACR and the tobacco industry.
Mr Green said he had undertaken public relations on behalf of retailers with some logistical assistance, including the use of office space from Glenn Inwood, a PR man who has represented Imperial Tobacco, but said he had not received any funding assistance.
"I don't have any communication with tobacco companies whatsoever," he said.
The police spokesman said police did not submit on the select committee's inquiry, and the time to have input would be if or when legislative changes were in the pipeline.
- NZPA