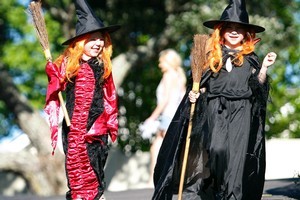 Ghosts, witches and gingerbread men haunted the streets of New Zealand last night for Halloween.
Children of all ages were out in full force for trick-or-treating.
Scary seemed to be the theme this year, with one 7-year-old dressing as a "scary vampire gingerbread man" - cape, icing and all.
With the gingerbread man were two witches. Estie Hamilton, 6 (above with sister Anais, 4) said she liked dressing up and getting lots of sweets.
One young Remuera wolf-boy was so impressed with his sugar score that he yelled, "Everybody pig out!"
His mother, Jo Gander, said: "A skull full of lollies ... It's all they need really. It's only once a year."
Indiana Jones was spotted in Remuera with Harry Potter characters Hermione Granger and Ginny Weasley - dressed in Hogwarts uniforms.
Hunter Coldham, 10, wore the Indiana Jones costume and painted stubble on his face but dressing up was not his favourite part of Halloween, he said.
"I like getting all the lollies, but I like dressing up my house, too."
His mother, Di Coldham, said she "gets really into it" because she is from Canada.
She covered more than 10 plants in her front garden with cobwebs and had a bellowing ghost above the front steps.