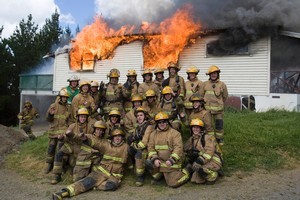 It's not every day that firefighters get to light fires, but yesterday they burned down a house for a training exercise.
The Beaumont family needed to remove the dwelling so they could make room to build a new one on the same spot.
After being told they were unable to take it down in the winter, they contacted the local Kumeu Volunteer Fire Brigade a month ago to see if they wanted to burn it down for a training exercise.
Firefighters from eight different brigades razed the Taupaki house room by room.
They filled the seven rooms with furniture from the rubbish dump to make it realistic, and then lit each one separately for teams of four to extinguish.
They also created a backdraught - a dangerous type of fire which happens when the smoke catches fire - so the firefighters could practise putting the fire out and observe fire behaviour.
The fire was controlled the entire time.
Senior Station Officer Simon Shields said having the opportunity to practise on a controlled fire was "fantastic" training.
"It's not very often that you get to do the training like today because house fires are few and far between, thank goodness."
About 10 houses a year are offered to the firefighters, and only half meet the criteria - such as access to a nearby water supply - to be used.
Tabitha Beaumont said it was "awesome" watching the family home burn down and she was not sentimental at all.