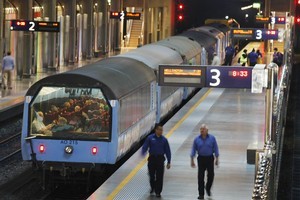 The Transport Accident Investigation Commission (TAIC) has called for a review of the rail network for landslide risk following a slip that derailed a passenger train last year.
The derailment at the Maymorn tunnel, 39km north of Wellington, on July 23 stranded the train's 240 passengers inside the tunnel although there were no injuries.
In a report on the incident released today, TAIC said the New Zealand Transport Agency should oversee a review of KiwiRail's severe weather warning system - and effective communications - and work with the rail industry on a risk management system for slip hazards along the rail corridor.
"Together with a risk assessment of slopes around the rail network, Ontrack could develop a more meaningful database of...weather-prone areas," TAIC said.
"The risk of a landslide causing a derailment is something that should be avoided."
TAIC said that OnTrack managers expressed their preference...to install landslide detection systems at known slip-prone areas. Such systems were common along Japanese rail lines.
TAIC said useful data on rainfall, river flows and slip activity was not being used by rail managers.
A day before the crash, the MetService had accurately warned of 50mm-80mm of rain at Kaitoke, just north of Maymorn but a network controller did not pass the message on to the Wellington area controller.
TAIC also asked the NZTA to look at its emergency response procedures to such incidents.
KiwiRail chief executive Jim Quinn said KiwiRail had already drafted an assessment and ranking of potential slip hazards in the Wellington metro area.
"While we consider the study useful, it cannot be infallible in predicting land movement along the rail corridor," he said in a statement.
He told NZPA that KiwiRail was working with state science company Niwa on options for automated alerts that might improve its systems.
- NZPA