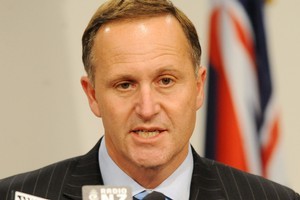 Prime Minister John Key announced tonight that The Hobbit movies - a $670m project - will be made in New Zealand.
Government ministers - including Economic Development Minister Gerry Brownlee and Arts, Culture and Heritage Minister Chris Finlayson - and Warner Bros executives have been locked in negotiations all day.
Mr Key made the announcement at a press conference this evening. Tomorrow morning he is due to leave for Vietnam for the East Asia Summit.
"I am delighted we have achieved this result, said Mr Key. "Making the two Hobbit movies here will not only safeguard work for thousands of New Zealanders, but it will also follow the success of the Lord Of The Rings trilogy in once again promoting NZ on the world stage."
The Government will introduce legislation tomorrow to clarify the distinction between independent contractors and employees as it relates to the film industry only.
"The industrial issues that have arisen in the past several weeks have highlighted a significant set of concerns for the way in which the international film industry operates," Mr Key said.
"We will be moving to ensure that New Zealand law in this area is settled to give film producers like Warner Bros the confidence they need to produce their movies in this country.
"This will guarantee the movies are made in New Zealand," he said.
Tax rebates will also be changed for Warner Bros, which will mean up to an extra US$7.5m per movie for Warner Bros, subject to the success of the movies.
The Government and Warner Bros agreed to work together in a "long-term strategic partnership" to promote New Zealand as both a film production and tourism destination," said Mr Key.
"My Government is determined to use the opportunity that the Hobbit movies present to highlight New Zealand as a great place to visit, as well as a great place to do business," he said.
The Government will offset US$10 million of Warner Bros' marketing costs as part of the strategic partnership.
New Zealand will also host one of the world premieres of the Hobbit movies.
"It's good to have the uncertainty over, and to have everyone now full steam ahead on this project," said Mr Key.
- with NZ Herald staff