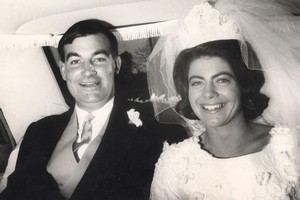 Rochelle Crewe has asked Prime Minister John Key to order an independent inquiry into the unsolved murders of her parents 40 years ago.
The only child of Harvey and Jeannette Crewe was disappointed when the police last week decided to review - rather than re-open - the investigation of the murders of Harvey and Jeannette Crewe in 1970.
Now, she has written to Mr Key to formally ask that an independent body investigate New Zealand's best-known cold case, and has suggested that an overseas judge be in charge.
She believed the original police investigation was tainted by corruption.
"I feel it is inadequate to just review what was already done, as this may not be a wide enough net to capture what was previously left out of the original investigation," Ms Crewe wrote to Mr Key.
Mr Key today confirmed he had received the letter and was taking advice on it.
"It's a complex issue," he said.
Arthur Allan Thomas was pardoned in 1979 after nine years in jail, and in 1980, a Royal Commission concluded Detective Inspector Bruce Hutton and Detective Len Johnston buried a shellcase from Mr Thomas' rifle in the Crewes' garden to link him to the crime.
In her letter to Mr Key, Ms Crewe criticised the decision to not lay charges against the pair after Solicitor-General Paul Neazor QC said there was insufficient evidence.
"It seems very bizarre that the Royal Commission inquiry finding did not amount to a strong enough basis to prosecute the perpetrators for planting evidence, yet it was enough of a finding to have a man pardoned."
Ms Crewe said there were allegations of "inappropriate mingling" between jurors and police officers during Mr Thomas' second trial, and that police failed to follow all leads in the early stages of the investigation.
Ms Crewe said an independent inquiry was needed as a matter of "fairness and to alleviate further cover-ups within the police".
"I just want justice for my parents, myself and my family through a fair and just system without prejudice from what has been put through before and using a separate entity that doesn't have a vested interest in protecting itself."
Ms Crewe said she was grateful for all the public support she had received in her quest to reopen the case. "I have been humbled by the number of people who want to reopen the case."
But she was aware of other parties also lobbying for a fresh inquiry, and said she was "separate from these other entities".
Deputy Commissioner Rob Pope announced last week that the police would not reopen the case, but would conduct a "thorough analysis and assessment of the Crewe homicide file" to try to answer questions raised by Rochelle Crewe.
The police decision came one week after Rochelle Crewe broke her 40-year silence in the Herald to ask police to find out who killed her parents.