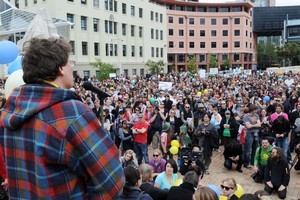 Sir Peter Jackson has taken a shot at an Australian union for intervening in the New Zealand film industry and unsettling plans to film The Hobbit in this country.
In a statement read at "Keep The Hobbit in New Zealand" rallies around the country this afternoon, Sir Peter said that if there were problems with actors' working conditions, New Zealand had guilds to work them out.
"We don't open the doors to an Australian union... who destroy everything we have worked to build."
He said the intervention by Australian-based union Media, Entertainment & Arts Alliance (MEAA) risked tearing apart "the great big heart that beats inside all our films".
"Turning us into another state of Australia under the sway of a destructive organisation carries the very real risk of destroying the great big heart that beats inside our films.
"As an industry we are perfectly well-equipped through our various guilds to provide excellent terms and conditions for our film workers. If there are problems, it is up to us to use our guilds to resolve them."
Sir Peter also leant his support to local film industry workers.
"I have always seen the New Zealand film industry as a large, noisy, growing family. And I have always known the debt of gratitude that I owe to the people that make up that family."
"All of our people care deeply about this industry - they love their work. That love shows up on screen and I believe it sets our films apart.
His comments were heard by thousands in Wellington, Auckland, Christchurch, Hamilton, Queenstown and Matamata.
Organisers of the rallies said they were timed to coincide with the visit of Warner Bros movie executives to discuss moving the two film adaptation of the J R R Tolkien fantasy away from New Zealand.
Rally co-ordinator Mark Harrison said that after a week of verbal jousting and personal attacks, he wanted to give a positive message to Sir Peter and Warner Brothers.
"Sir Peter said that these were his darkest days. We want to show our support for him and we want Warner to know that their investment in New Zealand actors and actresses will be safe."
He said opportunities for small-time actors to participate in such a major feature only arrived every 10 years.
"We will do anything we can to make this film happen in New Zealand."
"The message will certainly get across," Mr Harrison told nzherald.co.nz after the rally. "We are quietly hopeful that Warners will see the light."
Mr Harrison said there is a lot at risk if the films are made overseas.
"There is not only the $500m investment, there is a lot of tourism that is related to it and a lot of skilled workers will have to go offshore."
He was pleased with the turn out of supporters, considering many people are out of Auckland for the Labour Day Weekend.
"It is great that people have taken the time to turn up."
In Wellington, about 2000 to 3000 people gathered in Civic Square to listen to Weta boss Sir Richard Taylor's infectious optimism that The Hobbit films will stay in New Zealand.
"New Zealand is still the greatest destination in the world for film making," Sir Richard told the crowd.
"There's been great deal of debate over the last 10 years on what the Lord of the Rings has meant to New Zealand ... The most critical thing is that the Lord of the Rings has employed a nation of young New Zealanders to believe they can do this for a living, that they can do art for a living and that they can indelibly stamp the culture of New Zealand through their artistic prowess on the world-stage.
"And that is something that must continue."
Liz Mullane, the New Zealand casting director for the Lord of the Rings films, said New Zealand was the best place to make The Hobbit.
"Having experienced working on these films, I know more than anyone that we can do it. We're the only place that can do it."
She said New Zealand posed unique challenges in terms of casting, telling a story of when she needed to find an army and called up local farmers near Queenstown, only to be snubbed because of the muster season.
"It took me a couple of days to see the funny side, that my efforts had been stymied by sheep.
"Another story that comes to mind was when my Dunedin elves were unavailable because it was Otago University exam week. I had to tell Peter Jackson that none of the elves were available because they were all in Geography 101.
"My point is, we've done it before. It's a very hard road, but we've been there, we've done that, we got the t-shirts and we want to do it again."
The rallies followed an international union boycott over local actors' wishes to negotiate a collective contract.
Actors' Equity subsequently withdrew the international do-not-work recommendation on The Hobbit.
Yesterday the head of the Council of Trade Unions (CTU) said the public should not be under the illusion that there were any industrial issues remaining over filming.
CTU president Helen Kelly said Actors Equity, and its related Australian-based union Media, Entertainment & Arts Alliance (MEAA) had given an absolute assurance that there would be no disruption to the filming of The Hobbit in New Zealand.
"I sincerely hope Warners accept that assurance.''
- additional reporting NZPA